From only £149 with results in 2 weeks
The Ancestral Origins Test will help you discover your GeoGenetic links with populations from around the world. Ancestral Origins is the most straightforward and easy to understand ancestry DNA test on the market. Your 24 marker DNA profile is compared against hundreds of global populations and 14 anthropological regions whose collective genetic information is known and scientifically validated.
The cost of our Ancestral Origins Test is £149 and your results map and supporting 10-page report will be available to you in just 2 weeks from the receipt of DNA samples at the laboratory.
Ancestry DNA testing is a truly rewarding experience, sometimes providing very unexpected results – perfect if you are looking to put together a unique genealogical record for yourself and your children.

What You Will Learn from the Ancestral Origins Test
The results of our Ancestral Origins Test will provide the following information:
We will identify how strongly your DNA matches studied populations. Your results will include a map with coloured symbols indicated how strong or weak your association with a certain area is when compared to our database.
Results will show how closely your DNA matches studied anthropological regions. You will be able to see where in the world you have the strongest matches and can estimate the location of your ancestral origins.
It will be possible to tell where you come from by the colours on the high-resolution map we provide with your results. Follow the journeys your ancestor made out of the African continent and to the rest of the world thanks to the colour coded map that we provide. How to interpret the map will be explained in depth in the 10-page colour report that comes with your results.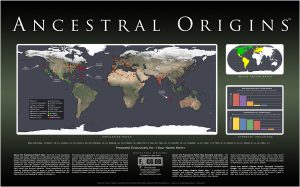 Your Personalised Ancestral Origins Map
Each Ancestral Origins DNA Ancestry map is professionally printed using a photographic-quality five-dye printing process on matt photographic paper. This process produces rich and beautiful images that are suitable for framing and displaying with pride in your home.
The ancestry maps are available in two sizes. The Standard (A3 297mm x 420mm / 11.69" x 16.54") version, or a stunning Extra Large (A2 420mm x 594mm / 16.54" x 23.39") version which is available for an additional £15. Every Ancestral Origins map is custom made and your own personal map will have "Exclusively prepared for" followed by your name printed on it.
Please click on the sample map above to see an example.

Your Ancestor's History Is Written in Your DNA
The legacy of your ancestors is in your DNA. You inherited certain DNA sequences in your genetic makeup from your ancestors – these sequences have been passed down for thousands of years and inherited by you today. These special sequences have been studied and linked to certain parts of the world and specific populations. The laboratory has access to a vast database containing the DNA sequences of most of the world populations that have been discovered and studied. When we analyse your DNA sample, we will run it against the populations in our database to find matches.

Ancestral Discovery Upgrade
Find out even more about your ancestry with the Ancestral Discovery upgrade. For an additional £30 you will receive a full colour pie-chart showing your genetic breakdown by percentage together with a 3-page report detailing your genetic breakdown and database matches by region.
Please click the images below to view an example pie-chart and an extract from the accompanying report: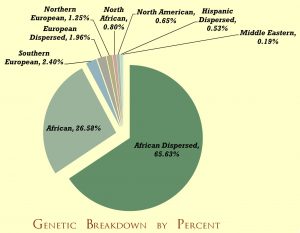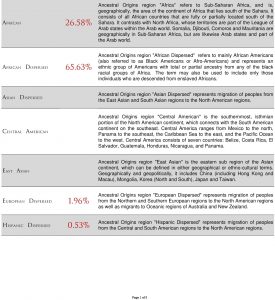 Extra Help and Our Accredited Test Informational
Need to talk to an expert? Our test results are easy to follow but contain a lot of information. If you wish to talk to someone, we have a professional ancestry test consultant at hand to answer all your questions and take you through your results to help you piece your genetic puzzle together.
Consultation sessions are up to 15 minutes duration and available only by telephone:
If ordered at the same time as sending your samples, the advanced purchase price per consultation session is £65.
If ordered after you receive your map, the service is available for £75 per session.

Ancestral Origins Frequently Asked Questions
Q: How does this test differ from those offered by Ancestry.com and similar companies?
A: The Ancestral Origins test is a STR-based test, which provides exact genetic matches to population groups, while the Ancestry.com and similar tests are SNP-based tests, which provide estimates of ethnic percentages.
Q: What can I use the information I gain from this test for?
A: The purpose of the Ancestral Origins test is to pinpoint population groups for additional research. For example, learning your genetic ancestry is strong in France and Italy today helps direct your research into those countries or related regions. In addition, this test provides your genetic profile, which can be used for identification and relationship analysis, as well as future genetic testing.

Haplogroup DNA Ancestry Testing Services
Our Ancestral Origins Test is one great tool you can use for your DNA ancestry research. It reports the ancestry from both your paternal and maternal sides but cannot distinguish between them. If you wish to specifically trace your paternal origins, we recommend our Paternal Lineage DNA Ancestry Test whilst if you wish to delve deeper into your maternal ancestry we suggest our Maternal Lineage DNA Ancestry Test.
ORDER NOW
Siblings DNA Test Review
Thank you so much for your quick reply and explanation it's very much appreciated and thank you for the great work you guys do.
DM DNA Test for Dogs Review
Thank you! Honestly, your quick response and helpfulness has been a breath of fresh air.
DNA My Dog Results Review
Wowwwww thank you sooooo much for the results, looking at each individual breed you can piece together all her traits and stances. THANK YOU SOOOO MUCH.... well happy 🙂
Forensic DNA Testing Review
I've just received the results. Your service has been impeccable. I really appreciate all your help, thank you so much.
Home Paternity Testing Kit Review
Thank you very much for this! I appreciate your email and your result! This has brought a huge relief, tears to eyes! Thankyou for your service! Worth every penny if not more!
Dog Allergy Test Kit Review
We had our dog allergy tested with you last year. We were advised that it is not a good enough test by our vet and many others online. This however couldn't be more wrong. We used the results to remove foods from her diet and even hypo-allergenic shampoos etc. Since she turned 1 years old we had her allergy tested by blood at the vet to see if she had out grown any of these allergies. The results were exactly the same as we were given by yourselves. Everything in red she is still allergic to. Without your help I'm not sure how we would of been able to help her in her first year. Especially given that she is allergic to almost everything hypoallergenic.
Paternity Test Kits Review
Thank you so much for your help with this. A very professional and caring service. Reminds me how very different customer services are in UK compared to the service accepted by most people here in Spain. Thanks again.
Dog Allergy Testing Review
Please forward my praise to your superiors with regards to your customer attention - thank you for all the communication at all times, and making sure all OK. Much appreciated. 1 day into eliminating salmon oil from her diet (daily supplement I was giving her for for her arthritis) and the turkey menus she is considerably better, all in 24 hrs. Can't wait to see how she improves within a few weeks of elimination.
Paternity DNA Test Kit Review
You guys have honestly just kick started my life!! I'm buzzing
Prenatal Paternity Test Review
Thank you so much for the great service and fast results
Sibling DNA Test Kit Review
Again, thank you so much, the journey with Affinity DNA has been fast, efficient and the technical help amazing from beginning to the end.
Degenerative Myelopathy Test Review
Amazing very fast delivery and so much detailed information!
Father and Daughter Paternity Test Kit
I am over the moon with the service, thank you very very much.
Health and Fitness DNA Test Review
Many thanks for your support and the excellent service provided by your company.
DM Test for Dogs Review
Just a note to say thank you again for sending results in the post, which I received today. Your service & kindness is exemplary.
Father and Son Paternity Test Kit
Thank you so so much mark for your fast response with the results. You have absolutely made my families life with this.
Father Son Paternity Test Review
Thank you for our results I must say the communication and service were outstanding.
Paternity Test for Father and Child Review
Thank you a great result I was hoping to be the father great service at a great price.
Paternity Test Kit Feedback
Thank you so much for a speedy and comprehensive service. I am very pleased and impressed
2 Children Paternity Test Kit Review
Thank you for the test results and a quick professional service.