Only £149 with results in 6-7 weeks
Our Maternal Lineage Ancestry DNA Test is a laboratory based test which provides the most in-depth and far-reaching insights and information into the origins and migration paths of your ancient maternal ancestors. Without a DNA test, these important aspects of your ancestry would remain hidden and undiscoverable. Celebrities such as Eva Langoria, Meryl Streep and Queen Noor of Jordan have all sought to discover their maternal roots and ancestry through DNA Ancestry Testing.
Click on the image below to view an example of our Maternal Lineage Ancestry DNA Test certificate: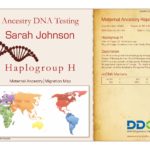 Mitochondrial DNA (mtDNA)
We all inherit our mitochondrial DNA from our mothers but it is only females that can pass it on to their children. All biological relatives in a family who have a common maternal ancestor will also have genetic sequences in their mitochondrial DNA profile which they all share. These shared genetic sequences mean that we can look at these individuals as belonging to the same mtDNA family. But genetic sequences in mtDNA will vary between different families. These differences are extremely important because they act as distinct markers of your maternal ancestry, enabling us to match your and your family's mtDNA with that of your haplogroup or ancient maternal clan. Every person in the world today can be assigned to their own family haplogroup through DNA testing thanks to these genetic sequences that are inherited from our ancestors, giving them unique insights into their own direct maternal heritage.

Maternal Lineage Ancestry DNA Test Information and Results
The Maternal Lineage Ancestry DNA Test is priced at £149
Results are available in 6-7 weeks from receipt of DNA samples
Your Maternal Lineage Ancestry DNA Test results will include:
Your personalised map which details the time and place of origin of your maternal ancestors together other valuable information
Your maternal haplogroup which includes a detailed description of that haplogroup. This is complemented by the information provided in your personalised map
Other related information including details about the analysis and details about which celebrities, the rich and the famous, who share the same maternal haplogroup as you

Points to Keep in Mind
Our Maternal Lineage Ancestry DNA Test is one of the most extensive and complete maternal ancestry DNA tests available. However, there are some things that you should keep in mind before you order this test:
First of all, this test is aimed at discovering your ancient ancestral origins – which means it will trace your ancestry back thousands of years, pre-dating the world, its countries and all its civilizations and cultures as we know them today.
People who share the same DNA in this sense are not exactly related. You can certainly share the same ancestry but not be relatives in any way.

Examples of Haplogroups
Haplogroups are groups of individuals sharing DNA variations that descend from a common ancestor. They are marked from A-Z for convenience purposes. Your test results will confirm your very own haplogroup. For example, your results might show that you belong to Haplogroup T, which refers to the Tara people who came from the Near East and lived in Northern Italy around 17,000 years ago. Or perhaps they might show you belong to haplogroup V, in which case, your maternal ancestors are believed to have originated around the Western Mediterranean region, approximately 13,600 years before the present time, possibly in Iberia.

Discover More About Your Paternal Ancestors
Are you keen to learn more about the paternal side of your family? Your maternal ancestry is only half your family history. Why not discover the other half with our Paternal Lineage Ancestry DNA Test?

Ancestry DNA Test Special Offers
The cost of our Maternal Lineage Ancestry DNA Test is £149. For a limited time, if you order our Maternal Lineage Ancestry DNA Test and Paternal Lineage Ancestry DNA Test (RRP £119) at the same time you pay a total of just £199 for both.
Please note that due to the nature of the Paternal Lineage Ancestry DNA Test this offer is only available to male participants.
ORDER NOW
Dog Allergy Testing Kit Review
Hello Team, I would love to thank all involved in testing my dog allergies. Since that test she finally lives her life itch free as it enabled us to avoid products causing her allergic reaction. I am very grateful for this report as her health massively improved after we removed all listed products from her diet. Since that time I have been suggesting other dog owners which battle similar issue to use your service. 5* from Blue.
Baby Gender Test Review
Thank you so much for sharing the results with me. I am really happy and impressed with your team's service and quick responses all the time. Affinity DNA service is really impressive and I must recommend this to my friends and family. 🙂
Siblings DNA Test Review
Thank you so much for your quick reply and explanation it's very much appreciated and thank you for the great work you guys do.
DM DNA Test for Dogs Review
Thank you! Honestly, your quick response and helpfulness has been a breath of fresh air.
DNA My Dog Results Review
Wowwwww thank you sooooo much for the results, looking at each individual breed you can piece together all her traits and stances. THANK YOU SOOOO MUCH.... well happy 🙂
Forensic DNA Testing Review
I've just received the results. Your service has been impeccable. I really appreciate all your help, thank you so much.
Home Paternity Testing Kit Review
Thank you very much for this! I appreciate your email and your result! This has brought a huge relief, tears to eyes! Thankyou for your service! Worth every penny if not more!
Dog Allergy Test Kit Review
We had our dog allergy tested with you last year. We were advised that it is not a good enough test by our vet and many others online. This however couldn't be more wrong. We used the results to remove foods from her diet and even hypo-allergenic shampoos etc. Since she turned 1 years old we had her allergy tested by blood at the vet to see if she had out grown any of these allergies. The results were exactly the same as we were given by yourselves. Everything in red she is still allergic to. Without your help I'm not sure how we would of been able to help her in her first year. Especially given that she is allergic to almost everything hypoallergenic.
Paternity Test Kits Review
Thank you so much for your help with this. A very professional and caring service. Reminds me how very different customer services are in UK compared to the service accepted by most people here in Spain. Thanks again.
Dog Allergy Testing Review
Please forward my praise to your superiors with regards to your customer attention - thank you for all the communication at all times, and making sure all OK. Much appreciated. 1 day into eliminating salmon oil from her diet (daily supplement I was giving her for for her arthritis) and the turkey menus she is considerably better, all in 24 hrs. Can't wait to see how she improves within a few weeks of elimination.
Paternity DNA Test Kit Review
You guys have honestly just kick started my life!! I'm buzzing
Prenatal Paternity Test Review
Thank you so much for the great service and fast results
Sibling DNA Test Kit Review
Again, thank you so much, the journey with Affinity DNA has been fast, efficient and the technical help amazing from beginning to the end.
Degenerative Myelopathy Test Review
Amazing very fast delivery and so much detailed information!
Father and Daughter Paternity Test Kit
I am over the moon with the service, thank you very very much.
Health and Fitness DNA Test Review
Many thanks for your support and the excellent service provided by your company.
DM Test for Dogs Review
Just a note to say thank you again for sending results in the post, which I received today. Your service & kindness is exemplary.
Father and Son Paternity Test Kit
Thank you so so much mark for your fast response with the results. You have absolutely made my families life with this.
Father Son Paternity Test Review
Thank you for our results I must say the communication and service were outstanding.
Paternity Test for Father and Child Review
Thank you a great result I was hoping to be the father great service at a great price.